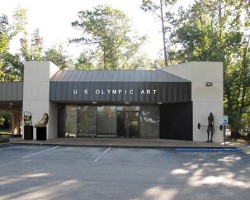 Academy renovating building to display submissions for the U.S. Olympic sports art contest that it is managing for the fourth consecutive Olympiad.
The United States Sports Academy began renovating a former bank building on its Daphne, Ala., campus to display American artists' submissions to the 2012 U.S. Olympic Sport Art Contest.
The Academy, which is managing its fourth consecutive competition, is turning the building into an art gallery where the artwork can also be cataloged, stored and judged.
For the past month, the Academy has worked on redesigning and refurbishing the building and dressing up the outside. Currently, placed outside its front doors are the sculpture depicting "Arnold the Weightlifter," which was created by the found object artist Bruce Larsen. The Fairhope, Ala., sculptor was the Academy's 2009 Sports Artist of the Year.
Also planned to greet art-goers are two solid bronze torsos created by sculptor Sergey Eylanbekov. The Academy's 2004 Sport Artist of the Year won the gold medal during the Olympic Art Competition in 2004 for Athens. These sculptures were commissioned in honor of Prince Albert and his new wife.
Academy President and CEO Dr. Thomas P. Rosandich says the transformation of the building will improve exposure of the Olympic sports art submitted by contest participants. The American Sport Art Museum and Archives (ASAMA) is also located on the Academy's campus and features one of the largest sports art collections in the world.
"The building will help bring this contest to the forefront since it would stand-alone instead of being lost in our rather large art collection," Dr. Rosandich says. "We will have some good art and I believe we will have both quality and quantity."
A call for American artists of all ages is underway for the 2012 U.S. Olympic Sport Art Contest, which is accepting submissions now through Feb. 1, 2012. Winners of the U.S. contest will be entered into the International Olympic Committee (IOC) Art Competition for a chance to win $30,000 and to have their art displayed at the 2012 London Summer Olympics.
The Academy is conducting the U.S. Olympic art contest in cooperation with the Art of the Olympians and under the auspices of the United States Olympic Committee (USOC).
The theme of the London 2012 Art Competition is "Sport and the Olympic Values of Excellence, Friendship and Respect." Artists are at liberty to interpret this theme by combining the three values or depicting only one of the values in the work submitted.
Submissions will be accepted in the two categories of Sculptures and Graphic Works, which include paintings, drawings, engravings, etc. Both categories include abstract art and there are no restrictions on the choice of techniques utilized by the artist. All artwork must be received by Feb. 1, 2012 at ASAMA. The institution's mailing address is: One Academy Drive, Daphne, Ala., 36526.