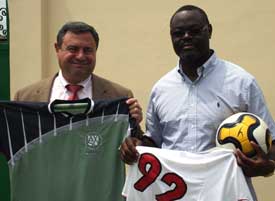 Academy Vice President Dr. T.J. Rosandich donated 25 complete youth soccer uniforms, as well as several soccer balls and soccer ball pumps, to the Federation Gabonaise de Football (FGF) during a recent visit to the Central African nation. Mr. Herve Patrick Opiangah (right), a senior official with FGF, accepted the donation on behalf of the organization.
The items given to FGF were donated by Ms. Jill Menzel, the founding President of SCORE American Soccer Company, Inc. Based in California, SCORE has been a part of the soccer world for more than 35 years and is one of the leading sports uniform manufacturers in the United States.
SCORE believes in the importance of creating opportunities for everyone to play the game they love, and continues to exhibit its strong dedication by generously donating needed soccer equipment to various organizations and teams throughout the world.
Most recently, SCORE donated more than $25,000 worth of team uniforms (shirts, shorts, and socks) to Haiti in conjunction with Airline Ambassadors, a non-profit organization. The equipment was specifically given to L'Athletique d'Haita, an organization that manages several soccer fields just outside of the tent city Soleil in Port au Prince (widely known through the efforts of actor Sean Penn). In addition to the uniforms, SCORE also donated more than 250 soccer balls, as well as goal posts and nets for L'Athletique d'Haita's fields.