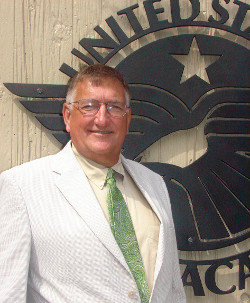 Dr. Ted Phillips, a longtime educator with a strong background in physical education and sport, was named the Academy's new Chair of Sports Studies.
Phillips began his career as an elementary teacher and worked his way up to serving as a university's physical education program director, professor and college women's basketball coach.
At the Academy, Phillips is expected to play a key role with the institution's five new doctoral teaching assistants. He also will help run the international programs in both Malaysia and the Middle East.
"This is exactly the type of position I've been searching for, a position to help the next generation of teachers and coaches," Phillips said. "My background has given me the unique perspective of all aspects of the teaching and learning process and I want to pass that perspective on to my students."
In the past, Phillips has held positions that include elementary teacher, principal, athletic director, high school coach, college coach, professor and program director. Both at Lindsey Wilson College in Columbia, Ky., and Western Carolina University in Cullowhee, N.C., Phillips headed the physical education programs.
He has coached basketball, soccer, track and field, volleyball and other sports during his career. At the collegiate level, he has served as the head women's basketball coach at Virginia Intermont College in Bristol, Va., and UMPQUA Community College in Roseburg, Ore., and an assistant women's basketball coach at the University of New Orleans.
Phillips has been involved in numerous sports and education research projects, is widely published, including a book, "Creative Movement Activities for Preschoolers: A Perceptual and Tactile Approach," in 1994 for the American Press. He also has made many presentations to professional organizations.
He earned his doctorate in physical education from the University of Southern Mississippi, his master's in physical education from the University of New Orleans and a bachelor's in elementary education at Concordia College in St. Paul, Minn.