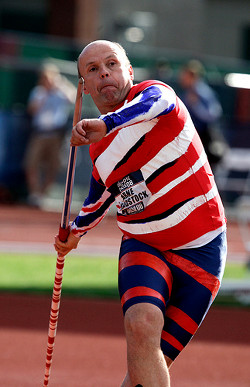 Roald Bradstock
Roald Bradstock is uniquely qualified to teach youth about the strong connection between sport and art.
He's an Olympian javelin thrower who competed for Great Britain at the 1984 and 1988 Olympic Games and for the United States in 1996. Bradstock reverted to his British citizenship in order to make a bid for the 2012 Olympics.
And as an artist, Bradstock won the U.S. Olympic Sport and Art Contest for the 2000 Sydney Games. Bradstock, who a United States Sports Academy 2003 Sport Artist of the Year, earned the nickname, "The Olympic Picasso." Bradstock, who holds dual citizenship in the United States and Britain, is again competing in the 2012 U.S. Olympic Sport and Art Contest, submitting a painting of a triumphant runner for the Graphic Works category.
Bradstock has now lectured about sport art to more than 20 Sports Colleges around Britain in his role as Legacy Ambassador for the Youth Sport Trust's 2012 Legacy Programme. Backed by London 2012 organizers, the education program seeks to transform physical education and school sport for young people leading up to this summer's Olympics.
Teaching has become another passion of Bradstock's working for the Youth Sport Trust, which includes Science, Technology and Music education, as well. He says he starts of his workshops by asking how many students think strong ties exist between sport and art. Usually, only a few hands go up.
Then, during his introduction and demonstration he shares a series of 12 collages he did titled, "2012," that are inspired by the upcoming London Olympics. By the end of his lecture all the students understand how sport and art are intertwined and they've created a work of sport art themselves.
"I look at the work I have been doing the last three years as an art project with the Sports Colleges being my canvas and the students being my medium," says Bradstock, who began lecturing in 2009. "It has been really successful. It enables the students to explore and create something few have thought about before."
Bradstock, who is a founding member of Art of the Olympians, says the students have shown talent in his workshops with the paper collages he has them make.
"The work that has been produced by the students and teachers at my workshops has been nothing short of stunning," he says.
The Youth Sport Trust is now producing an interactive, educational DVD for teachers and students that it plans to make available in the fall.
What will Bradstock produce for the British Olympic trials this summer when he attempts to make his fourth team in the javelin? He is known for designing wildly patterned uniforms to wear for his competitions.
"The UK is very strict about what you're allowed to wear but I'm creative," says Bradstock, who turns 50 in March. "I want to do something a little different. You'll be the first to know."