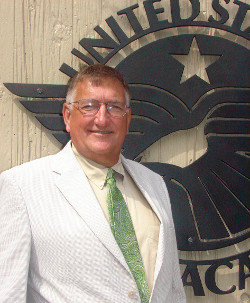 Dr. Ted Phillips, Chair of Sport Studies
Dr. Thomas. Rosandich attended the annual presidents' meeting of the Alabama Association of Independent Colleges and Universities in Montgomery on June 29, 2011. The AAICU discussed many issues facing their universities, such as a potentially costly U.S. Department of Education rule supported in bills moving through the U.S. Congress that would require every university to obtain a license in every state in the union in which they operate. This is cost-prohibitive for institutions with distance learning programs.
Dr. Ted Phillips is the new Chair of Sport Studies. Dr. Phillips has more than 35-years experience as a college professor and coach, high school athletic director, principal and elementary teacher. Among his duties were serving as the Physical Education Program Director at Western Carolina University in Cullowhee, N.C., and head and assistant coach for women's basketball programs at Virginia Intermont College in Bristol, Va., University of New Orleans and UMPQUA Community College in Roseburg, Ore.
The Academy's Dean of Administration and Finance Holly McLellan and Director of Communications Duwayne Escobedo attended the Baldwin County United meeting in Foley, Ala., on June 21, 2011, to listen to state lawmakers from Baldwin and Mobile counties present a wrap up of the 2011 legislative session.
Dr. David Shrock, will teach Sports Marketing in Thailand from July 18-22, 2011. Dr. Shrock is currently a Professor of Allied Health at Modesto Junior College in California. The courses are delivered in conjunction with the Sports Authority of Thailand (SAT) and are a part of the Academy's international certification programs in sports management and coaching.
Dr. Lawrence P. Bestmann, an Academy professor emeritus, recently published "You can, you Can!" His second children's book is a motivational movement arts book about a frog coach who motivates an awkward young boy into becoming coordinated.
Dr. Robert Cantu, the Academy's 2010 Dr. Ernest Jokl Sports Medicine Award winner, will be the Keynote Speaker at the second annual United States Olympic Committee's Sports Medicine Symposium, "Exploring Concussions Head On: Current Concepts," scheduled July 23, 2011, in Colorado Springs, Colo.
An 8-foot bronze statue of rock 'n' roll icon Chuck Berry was recently completed by Harry Weber, 2011 Sport Artist of the Year. The statue was installed at University City, Mo., and a formal dedication is scheduled July 29, 2011.