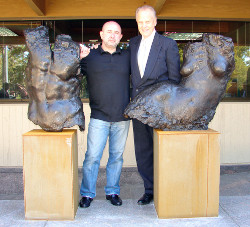 Russian sculptor Sergey Eylanbekov (left) and Jack Scharr (right), an Academy Board of Trustees member and president of Fine Art Ltd., at the unveiling of the bronze "Venus and Mars" torsos in front of The American Sport Art Museum & Archives on Friday, Nov. 11.
The United States Sports Academy unveiled two solid bronze torsos, "Venus and Mars," that were dedicated in the honor of two Olympians.
Russian sculptor Sergey Eylanbekov, the Academy's 2004 Sport Artist of the Year, created the bronzes this summer in recognition of the July marriage of Prince Albert II and Princess Charlene of the Principality of Monaco, who are both Olympians.
Albert, the ruler of Monaco since 2005, competed in the bobsled in five Winter Olympics between Calgary in 1988 and Salt Lake City in 2002. Albert's wife, Charlene Wittstock, is a former South African Olympic swimmer who competed in the 2000 Sydney Olympics.
Today, Albert is an active International Olympic Committee (IOC) member and Wittstock is a global ambassador for the Special Olympics movement.
Eylanbekov was present for the dedication of the sculptures, male and female torsos, Friday, Nov. 11. The torsos guard the front doors to The American Sport Art Museum and Archives (ASAMA) in Daphne, Ala. The Academy's museum, which opened in 1984, contains one of the largest sport art collections in the world with more than 2,000 pieces in all media by many famous national and international artists.
The artist, considered by many to be one of the world's top sculptors, said he meant for the torsos to look rugged. The male torso, "Mars," represents valor and manhood, and the female torso, "Venus," represents love and fertility.
"They do not represent idealistic beauty. They symbolize life," Eylanbekov said following the unveiling ceremony.
Albert sent word to Academy President and CEO Dr. Thomas P. Rosandich that he was very pleased with the artwork. However, Monaco's Prince joked that his abs don't look as good as the ones on "Mars" anymore.
The "Venus and Mars" bronze torsos sculpted by Sergey Eylanbekov, the Academy's 2004 Sport Artist of the Year, were dedicated in honor of two Olympians–Prince Albert II and Princess Charlene of the Principality of Monaco. Albert competed in the bobsled in five Winter Olympics, while his wife, Charlene, was a South African swimmer in the 2000 Summer Oympics.
Eylanbekov said he is happy with the way his bronze torsos, "Venus" and "Mars," turned out, and that he appreciates that Albert likes his work. He did both sculptures at one time without going back and making any improvements from his original clay.
"It is straightforward work that's all about form and all about sculpture. I tend to like it that way," Eylanbekov said. "If the Prince likes them, then I am content."
Eylanbekov now lives and works in New York City where he immigrated in 1989 after leaving Moscow. Speaking no English and without funds or contacts, he was forced to start his art career over in America. While he struggled, he formed a rock 'n' roll band that enjoyed success playing New York City clubs.
In 2002, he became an Official Artist for the Salt Lake Olympic Winter Games. He also produced the magnificent work that became the U.S. Olympic Team Commemorative Statue.
Eylanbekov finally earned significant international attention as an artist in 2003 for his acrylic sculpture, "Five Continents." It won the United States Olympic Committee's (USOC) Sport and Art Contest and was then entered into the international competition in 2004. The Academy hosted and judged that contest and it is currently conducting its fourth consecutive U.S. Olympic art contest in cooperation with the Art of the Olympians and USOC for the 2012 London Olympics.
Competing against entries from 39 countries, Eylanbekov's sculpture won the International Olympic Committee's (IOC) Sport Art Competition for the 2004 Athens Olympics. He produced the sculptures in the innovative medium of sculpture-grade acrylics. Eylanbekov's beautiful, multi-dimensional images brought him even more acclaim, as well as significant advances in his career.